Tips & Tricks for Getting Clients to Open & Act on Your Law Firm's Emails
Heard the rumor that law firm email marketing doesn't work anymore? Bought into it yourself, maybe?
It's easy to see why you would:
 Email has been around for a

very

long time,




 Most people complain that they get too much of it, and




If you're like us, you probably delete a lot of your incoming email without ever opening it.
So if you're ditching marketing emails, and we do too, it's only natural to assume that your prospective clients are doing the same, right?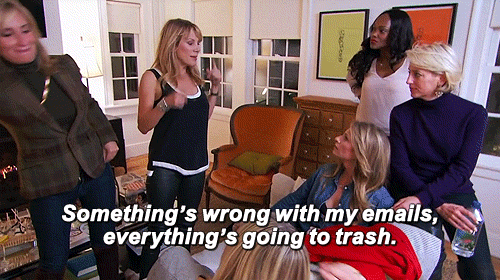 Why bother with investing in an email campaign for your law firm, then?  
Well, here's the thing: rumors of email's death have been greatly exaggerated.

And what may be true of some email campaigns from some brands within some industries is not necessarily true of law firm email marketing.
In fact, there is some really compelling proof out there that email marketing still works as a general principle… and that it is especially effective in the legal services market.
Not all email messages are created equal. The brands that know what they're doing enjoy much higher open, read, and click-through rates. But those that treat an e-campaign like emailing their aunt tend to meet failure… and then they bang out a blog article about how email is dead.
So let our entry today serve as a guide for law firm marketing managers who aren't quite ready to give up on email but need a playbook for success.  
We'll tell you:
Why attorney email marketing still works (at least for law firms on the right track)

The biggest obstacles your emails must overcome




What you can do to get better results for your firm

And more
Some Law Firm Email Marketing Statistics Worth Paying Attention To
Contrary to popular belief, most people don't mind getting emails from businesses and brands they trust.
They just don't like the annoying kind.
Consider the following:
In a wide-scale

Marketing Sherpa

study

, 61% of web users reported that they either do not mind receiving — or actually even

look forward

to receiving — promotional emails on a weekly basis.

38% of those respondents indicated they would welcome promotional emails even more than weekly, assuming the content was worthwhile. (Only 15%, however, were okay with daily emails.)

When asked if they're okay with monthly promotional emails, the number of favorable responses increased to 85%.

Only 9% of respondents said they do not want promotional emails.

More affluent email users respond more favorably to email marketing.

Marketing Sherpa

found that 92% of those making over a $100,000 a year indicated a preference for promo emails.

Emails from law firms

have an

average open rate of 22.73%.

That's one of the highest across

all

industries.

Similarly, law firm marketing emails see a very low

unsubscribe rate of just 0.22%

.
Emails are more than just effective for law firms. They're cheap, too.
Indeed, email marketing remains one of the most cost-effective means of digital marketing for attorneys and even if it won't produce the same levels of client conversion as, say, blogging or a PPC campaign, email may still be worth incorporating into your overall marketing plan because returns are relatively easy to realize.
7 Ways to Increase Your Legal Email's Open, Read, and Click-Through Rates
1. It All Starts with a Subject Line
As we alluded to earlier, each email arrives with three key goals:
Get the recipient to open it.

Make them want to read it.

Get them to take action on it (usually by clicking on a link — a measurable action).
The subject line affects all three goals but its biggest impact is on the open rate.
After all, the subject line is the only part of your email that readers are nearly guaranteed to see, whether they open it or not. That makes it a teeny-tiny window of opportunity — so you want to give it all you've got.
Some rules of thumb:
Be catchy and enticing.




Create a little suspense about what lies in store, but know that being too ambiguous can cause readers to pass over an email altogether.




Never mislead the reader about the contents of the email (this only backfires in the long run).




Keep it short, sweet, and to the point.




Use emojis (more on that below).
Even if you're most interested in the click-through rate, remember: users can't click what they never open.
2. Embrace the Emoji
Did you know that emojis increase open rates? Industry surveys consistently bear that out.  
But inevitably, whenever we suggest emojis to law firms, there's some pushback. Aren't those for… millennials?
We get it. Lawyers need to be lawyerly, and emojis don't exactly scream, "I have a doctorate!" But you know what emojis do accomplish? Getting people to open your email and if that's a goal your law firm is interested in, now might be the time to rethink your emoji aversion.
Besides, a little millennial interest ain't so bad… they account for a growing percentage of your prospective clients!
Emojis even work within the body of your email. Use them to create visual interest, perhaps even in lieu of bullet points. Just don't overdo it. Less is more.
3. Be on a First-Name Basis
Surprisingly enough, email marketers have found that something as simple as the salutation can have a substantial impact on an email's click-through rate.
The rule is this: use the recipient's first name in the greeting, but never their last.
First names catch the eye and create a connection. They're believably personable.
Last names, on the other hand, seem stuffy and suggest the use of an algorithm.
You don't ordinarily greet people by their full name in real life. So you shouldn't in an email either.
4. Skimmability is Key
Readers have a different relationship with email than with other types of online content. Whereas blog articles and webpages can gravitate toward the long-form because they're intended as resources, emails must be pithy.
The challenge, of course, is to be light but also be worthwhile and interesting. Here are some tips for striking the right balance:
Use section headings. Make them clever and easy to read. Hurried users will look to headings as a guideline for navigation.




Write in short but engaging sentences. Avoid complex thoughts or language. The quality of your copy really matters.




Use bullet points frequently.
5. Think Outside the Box for Topics
While it's fine for the occasional email to highlight recent content on your website, your e-blasts should be more than a mirror for your blog articles.
That's because blogs and emails are premised on fundamentally different marketing strategies.
Blog articles are created as inbound content. They're there so that people can find them when they have legal questions or are searching for specific topics.
Emails, meanwhile, are outbound. They're going out directly to readers who might not have a legal topic on their minds at all and it's okay for emails to venture into off-topic territory, so long as you can ultimately tie them back into your call to action (see below).
For example:
A personal injury law firm might send out summer safety tips, automotive maintenance reminders, or child safety advisories.




An estate planning firm might send out holiday recipes and end with a reminder that family gatherings are the perfect time to broach the topic of an estate plan.




A criminal defense firm might offer Uber safety reminders related to DUI defense.
6. Focus on a Singular Call to Action
Pick one call to action (CTA) per email and stick with it. Asking for too much at a time makes it less likely the reader will take any action at all.
Use bold CTAs that are quick to read, easy to follow, and simple to understand. You might consider using larger font to draw the reader's attention to the bottom of the email.
A simple link can be an effective CTA in email. Get the reader to:
Follow the law firm on Twitter




Like your Facebook page




Read a new blog article




Check out a new legal podcast or white paper




Schedule a consultation
…but only one of those things at a time.
7. Timing Matters
There may be no factors more influential on the fate of your law firm email marketing campaign than:
Time of day

and




Day of week
Which day and which time? Run a dozen Google searches and you'll get a dozen different answers.
To the extent that there's any consensus at all, it hovers somewhere around mid-morning on a Tuesday, but the variance exists for a reason: there's no one-size-fits-all answer.
The best advice is to try different days and times over the course of several months and monitor your success as you go. This will give you invaluable insight into your client base and target audience.
Let Black Fin Take Your Law Firm Marketing to the Next Level
Black Fin is a legal marketing agency that helps law firms get bigger cases and better clients using the web. Through content marketing, pay-per-click advertising, social media management, attorney SEO, and more, we work tirelessly to put our clients at the top of Google and at the top of their clients' minds.
Whether you need new website design, help with developing creative topics for your inbound or outbound content, or a well-orchestrated strategy for dominating your local legal market, we can make it happen.
Come find out why Inc.com recently recognized us as one of the fastest-growing privately owned companies in America. Contact the legal marketing experts at Black Fin today.